Your eyesight is important. To maintain good vision it is imperative to have regular comprehensive eye examinations where your vision and the health of your eyes is assessed.
It can be confusing knowing which type of eye professional to visit and in New Zealand we have a few different options. See further down the page where we demystify the various professions for you!
The three main roles in New Zealand eye care are Ophthalmologist, Optometrist and Dispensing Optician. These are all registered health practitioners which means to use these titles, the person must be registered with a board authority and they must maintain current registration and education to prove competence.
What is an Ophthalmologist?
Ophthalmologists (Eye Surgeons) are secondary or tertiary health care providers, meaning they offer the next level up in health care. Ophthalmologists are medical doctors who have studied in the specialised field of the eye, the surrounding anatomy and vision. They train at medical school, just like all medical doctors. After the first six to seven years, they graduate as general doctors. This is then followed by two to three years of working in hospitals and gaining experience in the many different fields of medicine.
Doctors interested in specialising in Ophthalmology must then sit examinations to be allowed in to the Ophthalmology training programme. This final step involves five years of study and 12,000 hours of hands on training. During this study they are trained to diagnose and manage serious disorders of the eye, surrounding anatomy and visual system. Ophthalmologists are trained to treat eye related issues with surgery, medications and other techniques.
Our Ophthalmologist Dr Andrew Logan completed his training over 35 years ago and set up his own private practice over 30 years ago. He has extensive experience as well as a great passion for his work.
What is an Optometrist?
Optometrists are primary health care providers who have studied the eye, the surrounding anatomy and vision. They are trained to treat eye related issues with spectacles, contact lenses, visual exercises and in some situations, with medications.
Optometrists in New Zealand train at the University of Auckland for five years. They aren't medical doctors. Most Optometrists in New Zealand are therapeutically qualified, which means they can prescribe medications relevant to eye health.
If an Optometrist finds something suspicious about your eye health or vision, or something that requires surgery or a higher level of treatment, they will refer you to an Ophthalmologist.
To find an Optometrist near you, go to the New Zealand Association of Optometrists.
Our Optometrist Shannon Tubman completed her Optometry degree about 20 years ago and has special interests in dry eye management, myopia management and diabetic retinopathy. Shannon has found Optometry to be an interesting and satisfying job, and loves being able to offer effective solutions to resolve peoples eye and vision issues.
What is an Optician?
In New Zealand we also have Dispensing Opticians. They are qualified to interpret the spectacle and contact lens prescriptions created by an Optometrist or Ophthalmologist. They can then use their skills to help you choose which spectacles lenses and frames will work best with your prescription and your daily visual needs. That might be discussing the benefits of progressive or bifocal spectacle lenses, or the benefits of photochromatic lenses and tinted lenses.
In the past, the term Optician, especially in the United Kingdom, has been used to describe an Optometrist. But the term is no longer used for Optometrists, to try and reduce the confusion between the different professions.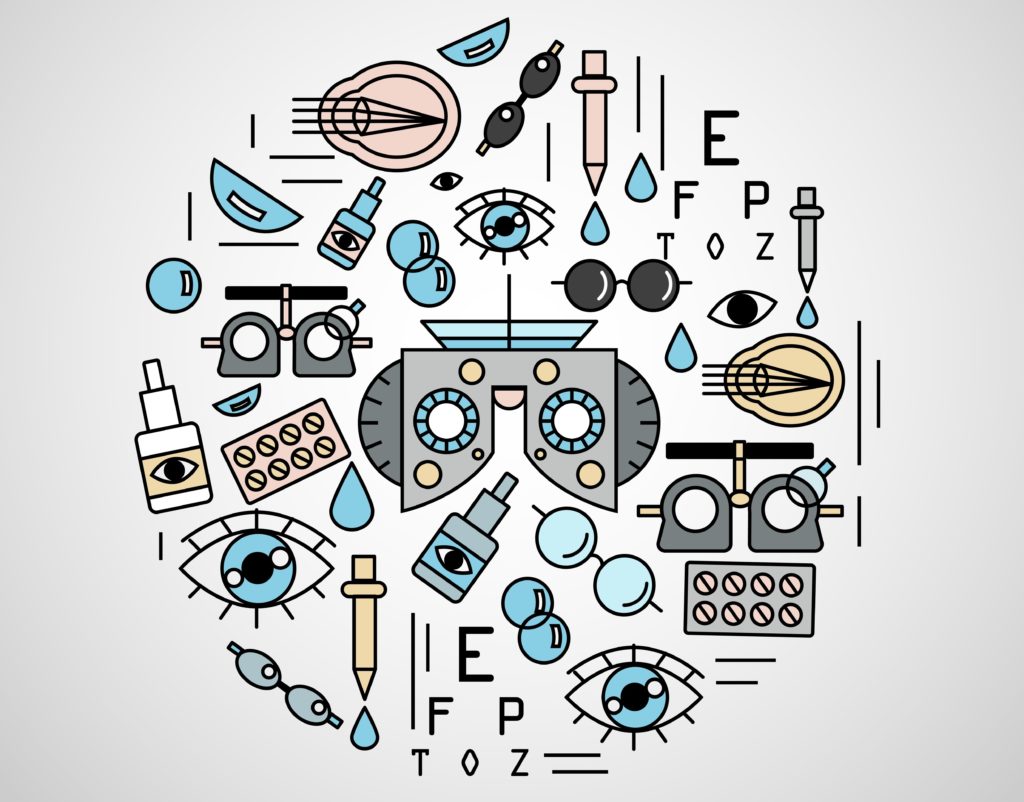 Do I need a referral to see an Ophthalmologist?
If you think your eye or visual issue requires specialist care and you already have an Ophthalmologist, you should contact them. If you don't already have an Ophthalmologist, make an appointment to see your local Optometrist to assess your eyes and vision, and they can help you decide which Ophthalmologist will best suit your issue and the level of urgency. They can then arrange a referral letter for you. That letter may be to see an Ophthalmologist privately or at the Eye Department at your local hospital.
If your eye or visual issue is urgent and you have had it before, contact the eye care practitioner who last treated/assessed this issue for you.
If you experience any new symptoms, such as:
seeing flashes of light
a sudden onset of new floaters
significant pain
sudden vision loss (partial or full)
You should see your Optometrist first or if it is after hours, go to the Emergency Department of your local hospital. Flashes of lights and/or floaters may signify a retinal detachment. If this requires surgery, you need to see a Retinal Specialist.
If you're interested in having Laser Vision Correction however, to replace your spectacles or contact lenses, you don't need a referral to make an appointment with us. You can arrange a time for your free laser suitability assessment online right now. This will be done with a technician who will be able to work out if laser looks like a possibility for you, and will help you organise an appointment with our Ophthalmologist, Dr Logan.
What to keep in mind when looking for an Ophthalmologist
Despite the tiny size of the eye, there are multiple sub specialties within Ophthalmology. These subspecialities can relate to the area of the eye, the age of the patient or even to specific conditions. In Wellington there are many Ophthalmologists who are skilled in cataract surgery, but less than a handful that offer corneal surgeries or refractive surgeries like laser vision correction.
Dr Andrew Logan of Wellington Eye Centre is an anterior segment eye specialist. This means he specialises in conditions of the eye that affect the structures at the very front of the eye (cornea, conjunctiva, iris, ciliary body, lens and eyelids). Dr Logan is also a specialist in cataract surgery and laser eye surgery.
Dr Logan treats many eye conditions, but his main focus is on;
Dr Logan is passionate about finding the best option for you, sometimes that means he won't recommend surgery. But if after all the available pre-tests are done, and they check out OK, he and his team are more than happy to talk you through the various surgical or non-surgical options for you.
In case you're interested, here are the types of subspecialties in Ophthalmology:
The types of subspecialties in Ophthalmology
Cataract and Refractive surgery
Anterior Segment
Uveitis – treat the eye for inflammatory conditions such as Iritis, Retinitis.
Glaucoma – specialise in treating Glaucoma, a condition that affects the optic nerve
Neuro-ophthalmology.- investigate and treat visual problems that relate to the nervous system, such as those that might occur in brain injury (from trauma, stroke or tumour).
Ocular oncology – treat tumours that affect the eye or the orbit.
Oculoplastics and orbital surgery – treat eyelid issues, sinus issues and any surgery that requires the eyelids or the orbital bones to be altered or repaired.
Paediatric ophthalmology/strabismus – treats children and those with misalignment of the eyes.
Posterior segment – treats conditions that affect the back of the eye, diabetes, High Blood Pressure, retinal detachment. They can be a medical retina specialist (treats with non-surgical means) or a vitreo-retinal surgeon (surgical management of retinal and posterior segment diseases).
How do I choose an Ophthalmologist to do my laser vision correction?
Deciding to have laser vision correction is a big decision. Not only is there more than one type of surgery, but you have options as to which surgeon as well.
Why choose Wellington Eye Centre?
Our practice vibe and culture
Here at the Wellington Eye Center we take great pride in our ability to help people and have a focus on providing the absolute highest level of care available. We are here to offer you the best in care and advice for the health and comfort of your eyes. If surgery is not the best option for you then we will advise you of that and help you figure out what your options are. Personality is important too, so when you come for your free laser suitability assessment, while we check out your eyes, we encourage you to use it as your time to get to know us. Our aim is to make every patient feel comfortable, informed, listened to, and respected.
If you do have surgery with us, you will generally get to know us quite well as there will be multiple comprehensive follow ups on your eyes during the first twelve months post surgery.
For out of town patients your follow ups would be performed by a local optometrist under our guidance, after which we would call you to discuss their findings and check in to see how you're going. Following laser there is a process to recovery that can take a few months while the eyes settle; we strive to guide you through this period to help your eyes stay happy and healthy.
Our technical skill and equipment
The Wellington Eye Centre was the first eye surgery in New Zealand to offer both LASIK and SMILEⓇ laser vision correction. We are the only clinic outside of Auckland and Christchurch to offer SMILE. 
Wellington Eye Centre and Dr Logan are early adopters of proven new technology. Dr Logan is an avid learner, regularly attending national and international conferences in Refractive Surgery and Anterior Eye Ophthalmology.
Our locations
We are conveniently located right in the heart of Wellington, on world famous Cuba Street — (there is always fabulous people watching to be done down this end of town). The culinary and cultural options make it easy to see why Wellingtonians call it 'the coolest little capital in the world'. There are hotels close by making accommodation for those staying in the city overnight simple. For our patients from out of town we offer an accommodation package as well as many other helpful benefits.
We also have two satellite clinics with one in Hawkes Bay, and one in Nelson, we offer initial assessments at both and in Hawkes Bay we are also provide follow up care after laser eye surgery.
Our prices
Laser Eye Surgery
Wellington Eye Centre costs are similar to other laser vision correction services around New Zealand. We don't think you should have to choose your surgical options based on price, so here at the Wellington Eye Centre, all laser vision correction services are the same price. So, no matter if it is SMILE, LASIK, LASIK Presbyond or PRK that you want or are best suited for, they are the same price.
We charge $3180 per eye, that includes all the assessments required before the surgery, and all the follow up appointments required for up to twelve months after the surgery. If the cost is still a barrier, we have a standard offer of 12 months interest free finance through Gem visa. For a limited time only we are extending this to 24 months – this works out to be just over $60 per week! Have a look at our handy surgery payback calculator to see how soon you can start saving money.
Other Procedures and Appointments
For all other appointments and procedures contact us online or call us on 0800 733 327 for more information.
We are also a Southern Cross Health Society affiliated provider.
---
Questions or comments? Get in touch with us: